Six things you MUST check when purchasing a used car
---
Used cars are often a bargain, and even a car that's a couple of years old will be significantly cheaper than buying new from a dealer. Unfortunately, if you don't know much about cars, then it can be hard to decide whether a used vehicle is a bargain or a potential money pit. It's important to carry out several checks when buying a used car, whether it's from a private seller or a specialist dealer, as this will ensure that the important aspects of the car are working as they should. Here are six things you should check before you commit to buying.
1. The paperwork
From the MOT to the mileage certificate, it's important to check that all the paperwork is accurate and genuine. You can also run a check on the number plate to ensure the car hasn't been written off or stolen.
2. Bodywork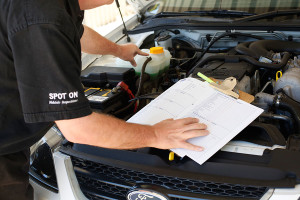 A thorough check of the pain will show you any signs of rust, and show any dents or scratches that may indicate a clumsy owner. During a pre-purchase car inspection, the bodywork can give away quite a lot of information about how the car has been treated, and any potential problems.
3. Tyres
Make sure that all four tyres match, as mismatched tyres aren't safe. Tyres should be worn evenly. One tyre having lower treads could indicate problems with the car's tracking. Measure the tire treads too. Tyres can be expensive to replace, and nobody wants to buy a new set after a month.
4. Under the hood
Even if you don't know much about cars, pop the hood and look what's underneath. Spots of rust or dents can all be signs of neglect, or can indicate weather damage. A Spot On Vehicle Inspection can highlight any potential issues, and by getting a professional to look under the hood, it's more likely that a problem will be identified.
5. Interior condition
Check the seats carefully for tears and rips. Damage to upholstery looks unsightly, and can be expensive to repair. Beware of any car that has been owned by a smoker, as it can be very hard to get the smell out of the upholstery once it's in there.
6. Brakes
The brakes are one of the car's most important safety features, so give them a good test when you go for your test drive. This will help you identify any faults, and ensure you are safe on the road. Check the MOT certificate to see if there are any advisories on the brakes. They may indicate that the brake pads need to be changed soon.
Used cars are often a bargain, but it can sometimes feel like you don't know what you're getting. By taking a few precautions and doing some basic checks, you can avoid the pitfalls of expensive repairs, and ensure you get the best possible car for your money. If you can't do the inspection yourself, then consider bringing in the professionals, as this is still cheaper in the long run than a big repair bill.