How To Maintain Your Bucket Truck
---
Before the operator climbs up in a bucket truck, pre-operation checks of the bucket arm and hydraulic hoses are required first. There should be no leaks in the hydraulic hoses. Also, operators need to check for any signs of metal fatigue, fractures, or missing components on the boom arm. Moreover, boom arm breakdowns and brake fluid fires are completely avoidable catastrophes that may occur when appropriate safety and maintenance measures are not taken.
Purchasing a bucket truck is a significant investment and only makes sense to protect that investment with preventive maintenance, which should begin when the truck arrives. Furthermore, keeping your boom truck is the best way to guarantee that it will last a lifetime, and we've outlined the maintenance plan you can anticipate over the length of your truck's life below.
The Significance of Bucket Truck Maintenance
Whether you have forestry or a boom truck, maintaining your vehicle in good condition is essential for maximum earnings. Even though it seems like deferring maintenance saves money, the reality is that we'll spend it some way or another. We either pay upfront for tire rotations, change the oil, maintenance, timing belts, and brakes, or we pay more to repair items when they fail.
Moreover, proper maintenance may vary from the basic—checking fluid levels and tire pressure, cleaning our vehicle regularly to avoid corrosion and dirt—to the more complicated one, such as inspecting belts, changing pumps, rebuilding exhaust systems, and more. Whether simple or complex, it's critical to handle problems as soon as possible. Otherwise, a regular maintenance item may rapidly develop into a catastrophe emergency repair.
As an example, assume that you find that the hydraulic pump seal has developed a leak during your regular checkup. Replacing the seal is a simple task. However, if you put this off for fear of purchasing materials and labor, the pump may fail when you need it the most, putting you in a challenging situation. You're now responsible for paying for a new pump as well as labor to install it, rather than just the seal. This reasoning applies to all components of your boom truck since most parts work together, so when one fails, it's just a matter of time before another does.
Checklist For Maintenance of a Bucket Truck
Routine maintenance is required, but drivers must also check critical systems before working in a bucket truck. Regular everyday checkups include the following:
Bucket arm, bucket
Outriggers
Oil, line of fuel, and line of hydraulic
Upper and lower controls
Emergency lights, turn signals, and headlight
Wipers
Batteries
Brakes
Moreover, the answer in keeping your truck in its optimal condition is looking for a maintenance company for a bucket truck repair near me.
Bucket Trucks Care Guide
If properly maintained, bucket trucks may survive up to fifteen years. Use the following advice to guarantee that they'll be helpful until the end of their life:
Adhere To the Manufacturer's Guidelines and Recommendations.
Every vehicle comes with rules and suggestions to enhance the lifespan and guarantee operational safety. Make sure that you carefully follow these guidelines.
Conduct Visual Inspections Before, During, And After the Trip.
Prevent roadside breakdowns by thoroughly inspecting accessible components before and after each trip, as well as during stops.
Keep Up with Routine Maintenance
Maintain a regular maintenance plan with qualified experts. It guarantees that your vehicle will be in excellent working order in the future.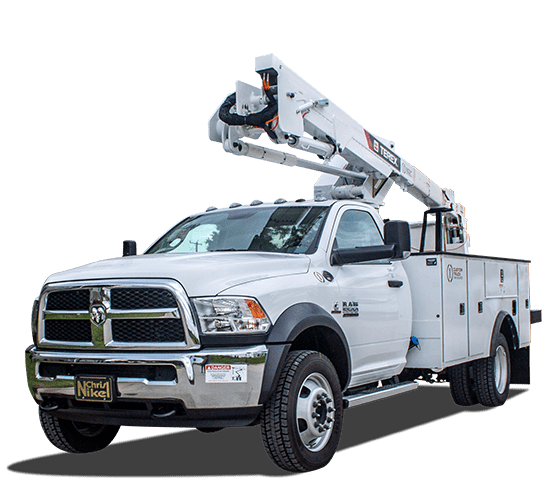 Making Home Maintenance Easier with Bucket Trucks
Have you all been putting off critical house improvements because you lack the necessary height? If so, you may need a bucket truck, boom truck, or personal lift.
Outdoor Work and Tree Maintenance
You may not even be able to reach mature, established trees securely—or at all—using a ladder. Whenever you need to clear trash or cut dead branches, a man lift that you can move into your garden may assist you securely and quickly reach the highest units.
House Painting
Whether you're painting the whole outside of your house or simply touching up a few areas, a lift may make the job simpler. A bucket lift will offer you extra room for supplies since you'll be carrying paint up with you.
Cleaning Of Windows
Because of the difficulty reaching the upper windows, some of us put off this yearly spring-cleaning job. Clean windows, on the other hand, allow in considerably lighter and may make a lot of difference with how your house appears and feels. Depending on your height, you may be capable of reaching your windows with just a ladder, but it may not be the safest choice for such a physically demanding job. Consider using a personal lift to go up high securely.
Siding Or Roof Repair
Like painting, doing siding or roof repairs may need to get up high with many materials. You can use a bucket truck to help you with this!
Bucket trucks are utilized for airborne operations in various sectors, including telecommunications, electric utilities, construction, and fire rescue. As a result, numerous operations may be halted if they malfunction or break down. To minimize downtime and give your truck's components a periodic once-over, they must be examined and serviced regularly.
Furthermore, the safe operation of a bucket truck requires frequent servicing and maintenance. Delaying boom truck maintenance raises the chance of an accident, causing severe injuries or property damage.