EyeRide Bus Entertainment System: Uses & Benefits
---
Do you want to eliminate boredom on your buses with an advanced onboard entertainment system? Consider investing in EyeRide TV. EyeRide is one of the top tech companies you can find in the vehicle surveillance and bus entertainment systems market. EyeRide offers the ultimate entertainment solutions for all vehicles in your fleet — including buses and coaches.
Over recent years, technology has had a big impact on both travel and entertainment. Modern in-vehicle entertainment systems have been designed to help passengers have fun to the max while traveling.
Benefits of EyeRide bus entertainment systems
With music and movies, EyeRide offers a seamless experience to the passengers aboard their buses.
· Unlimited Wi-Fi
Keep your passengers happy with high-speed Wi-Fi free from disruptions.
· Customer entertainment
Get personalized entertainment delivered to each passenger's personal mobile device.
· EyeRide TV
With EyeRide TV, passengers can surf the web and entertain themselves at no extra cost. There are interesting features like GPS location-based advertisements, as well as media content and safety videos.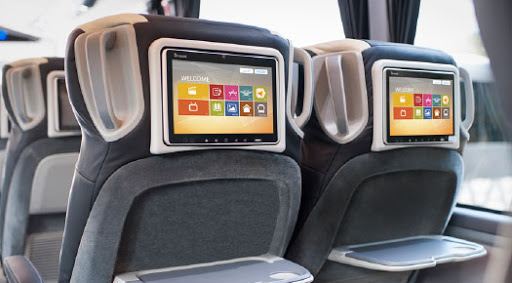 · Unlimited movie/music streaming
When you install EyeRide TV monitors and bus entertainment systems, your passengers won't have to worry about a lack of entertainment while on their journey. There are several awesome features that you and your passengers can enjoy.
The availability of a wide range of movies, music, and audiobook collections means that everyone will be able to choose their source of entertainment by tapping a button. Whether the length of the trip is only one hour or a full day, you can eliminate passenger boredom.
· No compatibility problems
EyeRide vehicle entertainment systems are compatible with several vehicle types, including motorcoaches and buses.
These tools are simple and easy to integrate with your fleet. It's recommended you read more on EyeRide's website for more information on their bus entertainment systems.
How to choose the best entertainment system for your bus
The vehicle entertainment industry is quite large, and as a result, some systems will offer more entertainment at affordable prices than others. It helps to consider key factors like support and future upgradability.
It's the duty of fleet companies to decide which entertainment system can best add value to the journeys of their consumers. Choosing your vehicle entertainment systems wisely can help you avoid extra costs in the future. For instance, a low-quality entertainment system can break down or become obsolete in a matter of a few months.
Fleet managers may want to consider systems that offer a wide range of entertainment options in a single package. A bus entertainment system that offers multiple entertainment choices could be the best investment because it will provide more entertainment without taking up too much space. As long as passengers are able to access the internet and stream music, watch movies, and play games, they should be happy.
Finally, another important factor to consider is the cost of these entertainment systems. Some manufacturers encourage fleet companies to sign up for their annual subscription services before they offer them support and system upgrades. Likewise, other sellers offer one-package products. So, try to weigh the advantages and disadvantages before you choose your bus entertainment system.
With several years of experience in making vehicle tracking software and bus entertainment systems, EyeRide has been trusted by over 9,000 clients as the most reliable brand.