Bajaj Pulsar NS200 Shown as an Adventure Tourer in this rendering
---
The true nature of the Bajaj Pulsar NS200 is from a naked street fighter. It has the looks and the performance to qualify in this category, which it has become very well established in over the years of its existence. But what if the Pulsar NS200 wasn't a naked street fighter, but was born as a more powerful adventure tourer? If that had been the case, the pulsar would have looked something like this.
This is a digital portrait of a Bajaj Pulsar NS200 in its Adventure Tourer Avatar. It was created by Abin Designs, an automotive artist. The motorcycle we see in the pictures here is supposed to be powered by a 400cc engine and not the 200cc engine built into the Pulsar NS200. No wonder a much more powerful engine is needed when you look at the changes that are included in this model.
Also read: What if the Bajaj Pulsar NS200 was a fully faired sport bike?
The rendering retains the silhouette of the original Bajaj Pulsar NS200. For example, it has the same fuel tank, headlights and frame. Other components have been adapted to the adventure tourer genre. We can see that there is a front beak that connects to the tank extensions and is placed just below the headlight. There is a long windshield above the headlight to protect the driver from gusts of wind. The handlebar has been raised and has ankle protection.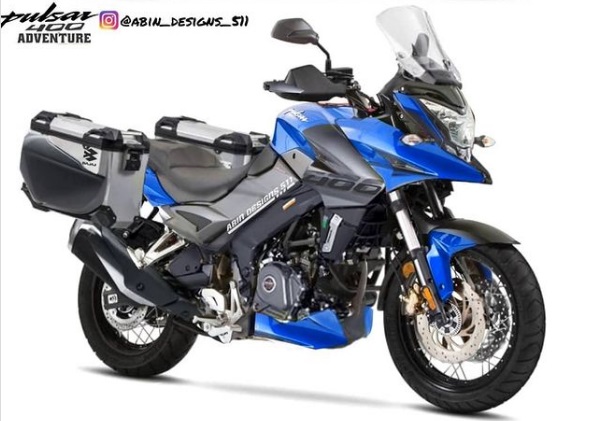 The side view of the Bajaj Pulsar NS200 Adventure Tourer shows that the front half of the motorcycle is higher than that of the production model. From that point of view, it reminds us of that Suzuki V-Strom 650 XT, mainly because of the side-mounted exhaust and spoke wheels. The artist also branded suitcases with the Bajaj logo. The chassis has also been adapted to carry the extra weight. We get a pair of thick USD forks on the front, while a monoshock is still attached to the back. To improve braking, two rotors are installed in the front.
There you have it guys. This is the Bajaj Pulsar NS200 Adventure Tourer from Abin Designs for you. What do you think about it? Let us know with a comment below.
You can find more interesting stories here IndianAutosBlog.com.