2017 Best SUVs and Crossovers
---
Are you looking for your next car? If it's been a while since you were in the market for a new car, you're in for a big (and pleasant) surprise. Cars have really changed in the last five years and have tons of new safety and comfort features.  Cars generally grow a little stronger and a little more rigid with every new model and revised generation, thanks to the development of new materials such as stronger steel and better construction techniques.
Here's our list of the top five SUVs and crossovers of 2017:
2017 Nissan Murano
The 2017 Nissan Murano offers the comfort, performance and refinement typical of luxury SUVs, but without the hefty price tag. Its interior outclasses those of most competing vehicles, and it delivers a cushioned, smooth ride. The Murano's base engine, a 260-horsepower V6, has good acceleration for most driving situations, and its smooth-shifting automatic transmission helps it to earn some of the best fuel economy estimates in the class.
2017 Honda CR-V
The 2017 Honda CR-V boasts versatility and competency. It has supportive seats and a firm but supple ride that makes it easy to live with. The interior is quiet, handsome, and roomy. Honda claims that the turbo engine will boast the highest EPA fuel-economy ratings in the class, aided by standard active grille shutters to improve aerodynamics.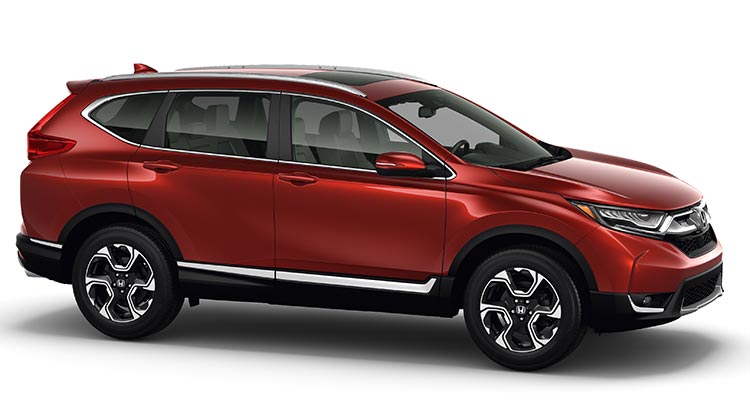 2017 Honda Pilot
The 2017 Honda Pilot is a good midsize SUV. You can get it in five styles, including LX, EX, EX-L, Touring, and Elite. It's power will come from a direct-injected 3.5-liter V-6 engine that features variable cylinder management and is paired with a six-speed automatic transmission on the LX, EX, and EX-L models, or a nine-speed auto on the Touring and Elite models.
2017 Kia Sorento
The 2017 Kia Sorento is a midsize SUV available in five- and seven-passenger configurations. There are styles including L, LX, EX, SX and SX Limited. The Kia Sorento has a 185-horsepower, 2.4-liter inline-4 and a 290-hp, a 3.3-liter V-6, or a turbocharged 2.0-liter inline-4 making 240 hp and 260 pound-feet of torque.
2017 Ford Edge
The 2017 Ford Edge has three engine choices, all of which are paired to a six-speed automatic transmission. The 2017 Ford Edge has three engine choices, all of which are paired to a six-speed automatic transmission.  The Sport style is a turbocharged 2.0-liter four-cylinder engine that produces 245 horsepower and 275 pound-feet of torque.
Interested in learning more? Take a browse through Southwest Motors full lineup of used SUVs today. If you're looking for the best small, mid-size, or luxury SUVs and crossovers, you'll find them there.